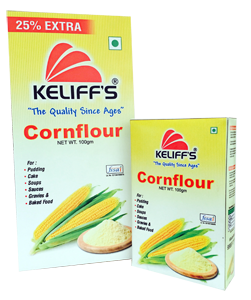 Cornflour
Cornflour is an important ingredient of many dishes such as Pudding, Cake, Soups, Sauces etc.
Keliff's cornflour is enriched with nutrition of maize and can be used to enhance the gravy and provide a rich texture to any vegetable. It can also be used to thicken sauces and soups.
Besides the health benefits of cornflour, Keliff's cornflour also has an added price advantage. Compared to the alternatives in market Keliff's cornflour is available in higher quality and lesser price.
Keliff's Cornflour is available in following packages–
100 gm
500 + 100 (Free) gm
1 Kg
1 x 25 Kg