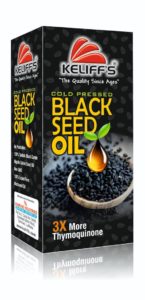 We are the leading Manufacturers, Suppliers, and Exporters of Kalonji oil, Black Cumin Oil in INDIA.
Kalonji seed oil is also known by various different names like Black seed oil, Black caraway oil, Black cumin seed oil, Black onion seed oil.
Pure Nigella sativa oil is another famous as well as the botanical name of this product.
Organic Black Cumin Oil benefits are taken by mankind from ancient times.
BENEFITS OF KALONJI OIL:
•   Black seed oil helps in the treatment of high blood pressure & asthma.
•   Reduces high cholesterol.
•   May used to reduce the tissue-damaging effects of radiation that kills cancer              cells.
•   Kalonji Oil helps in dissolving fats and dilation of veins and arteries.
•   Black Cumin oil act as anti-inflammatory Ayurvedic medicine.
•   Nigella Sativa Oil improves your immunity and helps in fighting deadly viruses.
•   Relieves stress & hypertension.
•   Most of the doctors recommend Kalonji Oil for hair growth.
In INDIA, Black Cumin Oil is also referred to as kalonji ka tel.
We at Keliff's, feel proud in announcing to be a prominent company as Manufacturers of 100% pure Organic Nigella Sativa Oil in India.
100% satisfied customers are the reals assets the company has earned over the years.
MARKET:
We have been exporting our essential oils to many countries like U.S.A, France, Japan, Netherlands, and Germany Directly or indirectly through our distributors.
U.S.P:
What makes us different from other local Black Cumin Oil manufacturers is the BEST ORGANIC OIL EXTRACTION TECHNIQUES are used to produce Black Seed Oil.
Actives – KELIFF'S KALONJI OIL

Palmitic Acid

11 % -14 %

12.40

Palmitoleic Acid

0.05 % - 0.5 %

0.15

Stearic Acid

2 % -4 %

2.85

Oleic Acid

17 % - 26 %

21.00

Linoleic Acid

52 %- 67 %

62.30

Linolenic Acid

0.1 % - 1 %

0.25

Eicosadic Acid

0-3 %

0.85

Myristic acid

0-0.5%

0.20
We are looking for bulk inquires across the globe.
To inquire Black Cumin Oil, send us an email on sales@keliffs.com