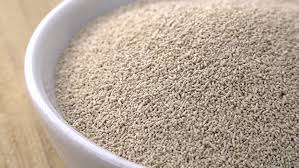 We are the leading Manufacturers, Suppliers and Exporters of Instant Dry Yeast.
It is also known as levadura seca instantánea in FRANCE.
Somos el principal fabricante, proveedor y exportador de levadura seca instantánea en la India. Releases the carbon-dioxide gas to increase the volume of baked goods through the reaction of the acid-base present in it.
Customers looking for Instant Dry Yeast manufacturers in INDIA
Our leavening agent is of the highest quality compared to the alternatives available in the Indian market. It was created with our sole focus on providing a healthy and efficient product to the consumer.
Our team of experts having more than 20 years of experience in the baking industry has formulated a unique and healthy product.
Best Instant Dry Yeast Manufacturers in India is another synonym of our company for reasons. Organic and finest ingredients are selected from the various parts of the country to produce this product.
Being equipped with the latest technology and modern machinery, we are capable of producing the finest product.
PRODUCT FEATURES:
Instant Dry Yeast has a 2-stage reaction process. It starts the baking process as soon as mixed with water and further continues the action when the heat is applied to the mixed batter. Furthermore, it is prepared organically and with carefully designed processes to ensure healthy baking.
MARKET:
KELIFF'S Dry Yeast is being majorly exported to many countries like the U.S.A, Canada, Indonesia, Philippines, Saudi Arabia, Angola, Nigeria, U.K, Austria, Singapore directly from the company or indirectly through channel partners.
BRAND:
Our brand or we do private labels too.
Keliff's has achieved the tag of most trusted Active Dry Yeast Manufacturers in India.
APPLICATION AREAS:
Used in pizza base as a leavening agent.
Used in delicious cookies preparations.
Used in various bakeries.
May used in many INDIAN cuisines.
Keliff's has a lot of reasons for being Best Active Dry Yeast Manufacturers and Exporters in INDIA, some of them are the following:
KEY FEATURES:
Vegan
Gluten-Free
Zero Trans Fats
Double action
 VARIETY:
Two variants, depending on the specific requirements of the recipes:
Instant Dry Yeast
 Active Dry Yeast
We are Govt. Registered Instant Dry Yeast Manufacturers in India.
We are looking for inquiries all across the globe.